Wayne Young 1954-2018

The Poplar and Willow Council of Canada was saddened to learn of the passing of Wayne Young in hospital at Nipigon in Northern Ontario in August 2018. Wayne grew up on the family farm in Plympton Township in southwestern Ontario, beginning his education in a one-room schoolhouse. He obtained first a forestry technician diploma and then, at Lakehead University, a forestry degree. His forestry career was with Domtar, first in Red Rock in Northern Ontario, and later at the Cornwall mill in southeastern Ontario, where he was a forester and later Woodlands Manager. He was a founding Director of the Eastern Ontario Model Forest. When the Cornwall mill closed in 2006, Wayne left Domtar and became General Manager of the Abitibi Model Forest in northeastern Ontario. He retired from there to his favourite haunts at Kama Point on the north shore of Lake Superior.
While he was with Domtar in Cornwall, Wayne Young was a vital participant in the eastern Ontario Hybrid Poplar program of the Ontario Ministry of Natural Resources. That program, subsequently known as the Fast Growing Hardwoods program and later the Fast Growing Forests program, was an unusually effective partnership of industry (Domtar, which established, managed and eventually harvested the hybrid poplar plantations, mainly on abandoned farmland), university (Dr. Louis Zsuffa and colleagues at the University of Toronto who provided the scientific expertise, particularly in poplar breeding) and government (program leadership and management, establishment and management of plantation trials, publications and promotion under the leadership of Brian Barkley). Wayne was the essential link with industry in that program and was always a strong advocate for planting poplars.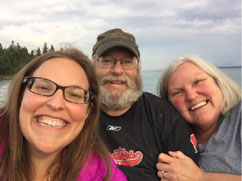 For 10 years or more in the 1980s and early 1990s, Wayne was a valued member of the Board of Directors of the Poplar Council of Canada (as it was then known) and hosted many field visits to hybrid poplar plantations in southeastern Ontario for a number of organizations, including the Poplar Council.
Wayne always led by example by instilling in others the importance of family, hard work and enjoying life's moments no matter what challenges needed to be faced. He was fiercely loyal, reliable and possessed a quiet strength which inspired others. Wayne accepted all challenges and adventures and always seized the opportunity to travel. He leaves behind his wife and daughter Amy, who was his greatest pride and joy, as well as other family and friends. A celebration of his life will be held in southern Ontario in fall 2018.