Upcoming Events

If you know of other poplar and willow-related events that we could list here, please send us a message with the relevant information.
PWCC Annual General Meeting for members - September 1, 2022
If you are a member of the PWCC, please join us on September 1, 2022, 12 noon - 3:00 pm (Edmonton time - Mountain Daylight Time) for our AGM.
It will consist of:
12 Noon - 1:20 pm - Four 15-minute student presentations followed by a Q&A session.
12:00-12:15 Raiany Dias de Andrade Silva (UofA) - Genetic variation in mature aspen stands in West Central Alberta
12:15-12:30 Aroniaina Randriamananjara (UQAT) - Plant diversity in mixed and pure hybrid poplar plantations
12:30-12:45 Jeriniaina Rabearison (UQAT) - Increasing tree productivity in hybrid poplar plantations does not linearly translate into greater soil organic carbon sequestration
12:45 - 1:00 Léa Darquié (UQAT) - Controlling aspen suckering in mixed stands using inverted diameter manual release
1:00 - 1:20 Questions and Answers for student presenters
1:30 - 3:30 pm - Annual business meeting
October 4-6, 2022
Hosted by: The Institute of Lowland Forestry and Environment
Novi Sad, Serbia
NOTE: This symposium will be held virtually - see the announcement below.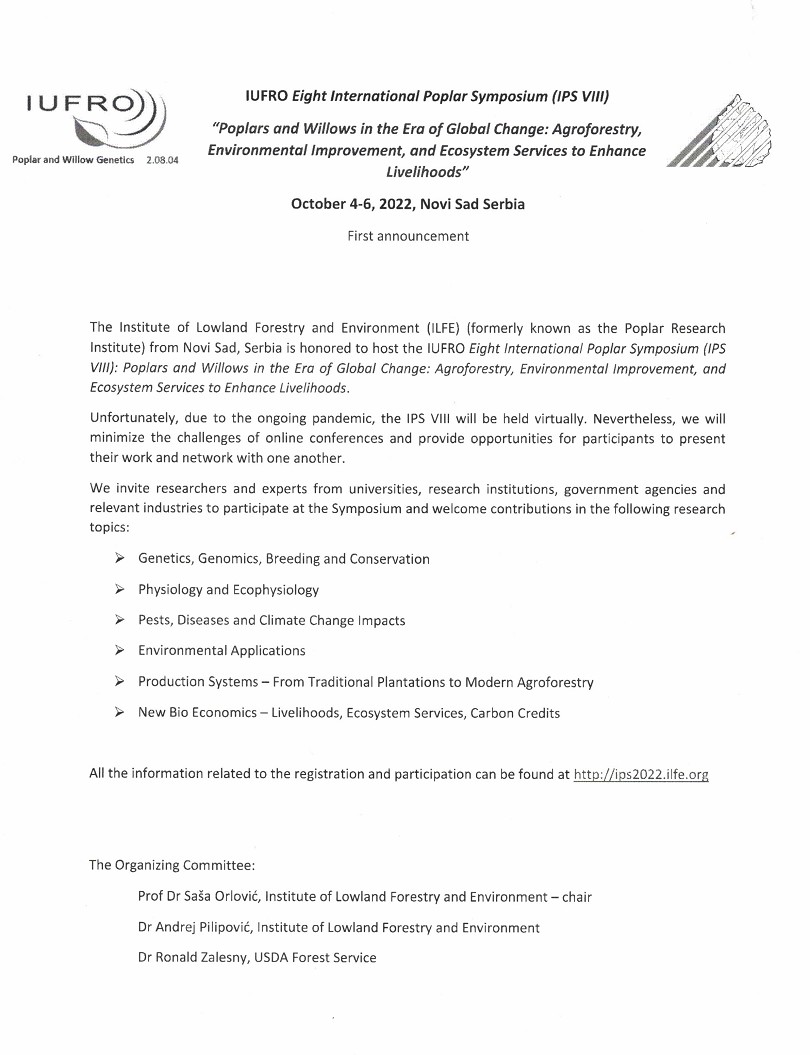 This webinar series will continue at a later date. Watch for announcements of future webinars at this link. Past webinars have been recorded and are available at: this link
Contact Jeff Jackson jeffj@umn.edu
Activities related to the Cultivation and Utilization of Poplars, Willows and other Fast-Growing Trees in Canada 2016-2019.