PWCC Annual Meeting with NAFEW in Edmonton

Edmonton was the venue for the June 2017 gathering of the Poplar and Willow Council of Canada (PWCC). As it has done on a number of occasions in the past, the Council chose to meet in conjunction with a larger event of interest to PWCC members. In this case it was the 11th North American Forest Ecology Workshop (NAFEW), a biennial conference of forest ecologists, scientists, forest land managers and academics from Canada, the United States and Mexico.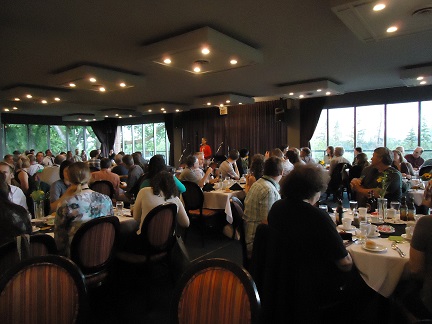 Barb Thomas addresses NAFEW participants. Photo: Raju Soolanayakanahally
More than 200 people gathered at the University of Alberta, which hosted the event, for three days of oral and poster presentations and a full day of field visits on the theme of 'Sustaining Forests: from Restoration to Conservation'. The organizers had lined up four keynote speakers, including Lena Gustafsson of the Swedish University of Agricultural Sciences in Uppsala, Tony D'Amato of the University of Vermont, Sally Aitken of the University of British Columbia, and Stephen Murphy of the University of Waterloo. A total of 170 oral presentations and 31 posters were offered in plenary sessions, special sessions of invited papers and concurrent sessions of contributed voluntary papers and posters. Many of these concerned the ecology and management of poplar. Key topics included forest restoration and reclamation after natural or human-created discurbance, adapting forest management to climate change, and the ecological risks and benefits of assisted migration (also related to climate change). The conference organizers plan to publish some of the papers in the peer-reviewed international journal Forest Ecology and Management. Meanwhile, abstracts of all presentations can be viewed online at http://nafew.org/2017-agenda/.
A choice of five field trips was offered, of which four focused on Populus species, including aspen. One tour, led by Barb Thomas (University of Alberta), past chair of PWCC, featured poplar genetics and management on the Forest Management Agreement area of Alberta-Pacific Forest Industries Inc. (Al-Pac) at Boyle about 200 km north of Edmonton. Al-Pac's tree improvement program, which has acquired and developed over 25,000 new genotypes since its initiation in 1993, is based on selecting fast-growing, high-quality-fibre trees adapted to the harsh local climate and resistant to Septoria canker. Over 10,000 ha of operational private land plantations of hybrid poplar have been established. Although new plantations are not currently planned, the extensive experimental material is being maintained.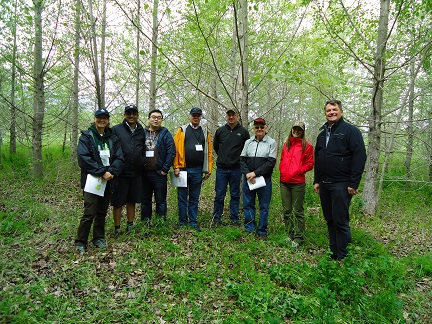 Field trip participants at AlPac. Photo: Raju Soolanayakanahally
PWCC held its annual business meeting during the conference to receive administrative, financial and technical reports, review progress, and elect Board members for the coming year. An update, revised online directory of poplar and willow clones in Canada will soon become available on this website, at least for PWCC members. Raju Soolanayakanahally (Agriculture and Agri-Food Canada, Saskatoon) remains Chair of the Council, and other members of the Executive Committee also remain unchanged. Martin Labelle (Bionera Resources Inc., Victoria) was welcomed to the Board of Directors as Chair of the Environmental Working Group, replacing Marc Poirier who has stepped down. It was agreed to hold the 2018 meeting of PWCC in Rhinelander, Wisconsin in late July in conjunction with the biennial gathering of the Short Rotation Woody Crops Operations Working Group of the USA.
View Photo gallery.
Detailed field tour guide for Al-Pac tour.