Poplar Council Annual Meeting 2013

The annual PCC meeting was held in Charlottetown, PEI on June 19-21 in conjunction with the 13th biennial North American Agroforestry Conference of the Association For Temperate Agroforestry (AFTA www.aftaweb.org).
More than 100 participants attended the conference from Canada, the USA, as well as several countries in Europe, South America and Africa. Over one and a half days of technical sessions, 64 invited and volunteer oral presentations were given and 25 posters. A full day field tour highlighted agroforestry trials and activities (including poplar and willow) in PEI. An optional pre-conference tour also featured agroforestry in New Brunswick.
The Poplar Council annual business meeting took place in conjunction with the conference. During the meeting, reports from the past year were received, plans for the coming year were reviewed, and Board membership was confirmed. Jaconette Mirck of Agriculture and Agrifood Canada, Indian Head, SK was elected to the Board, replacing Grant Harrison who had stepped down. The 2014 meeting will be held in Vancouver, BC in conjunction with the 6th International Poplar Symposium July 20-23.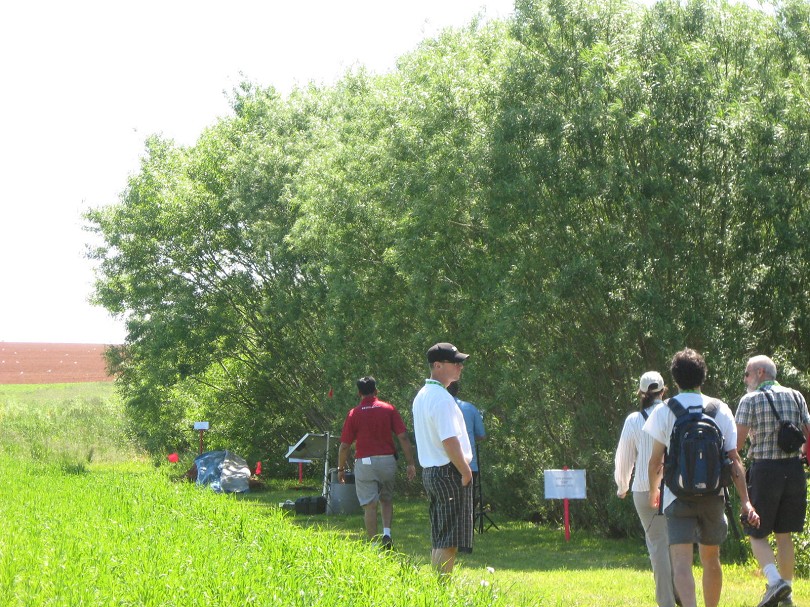 Field tour participants visit riparian willow biomass buffer plantation.